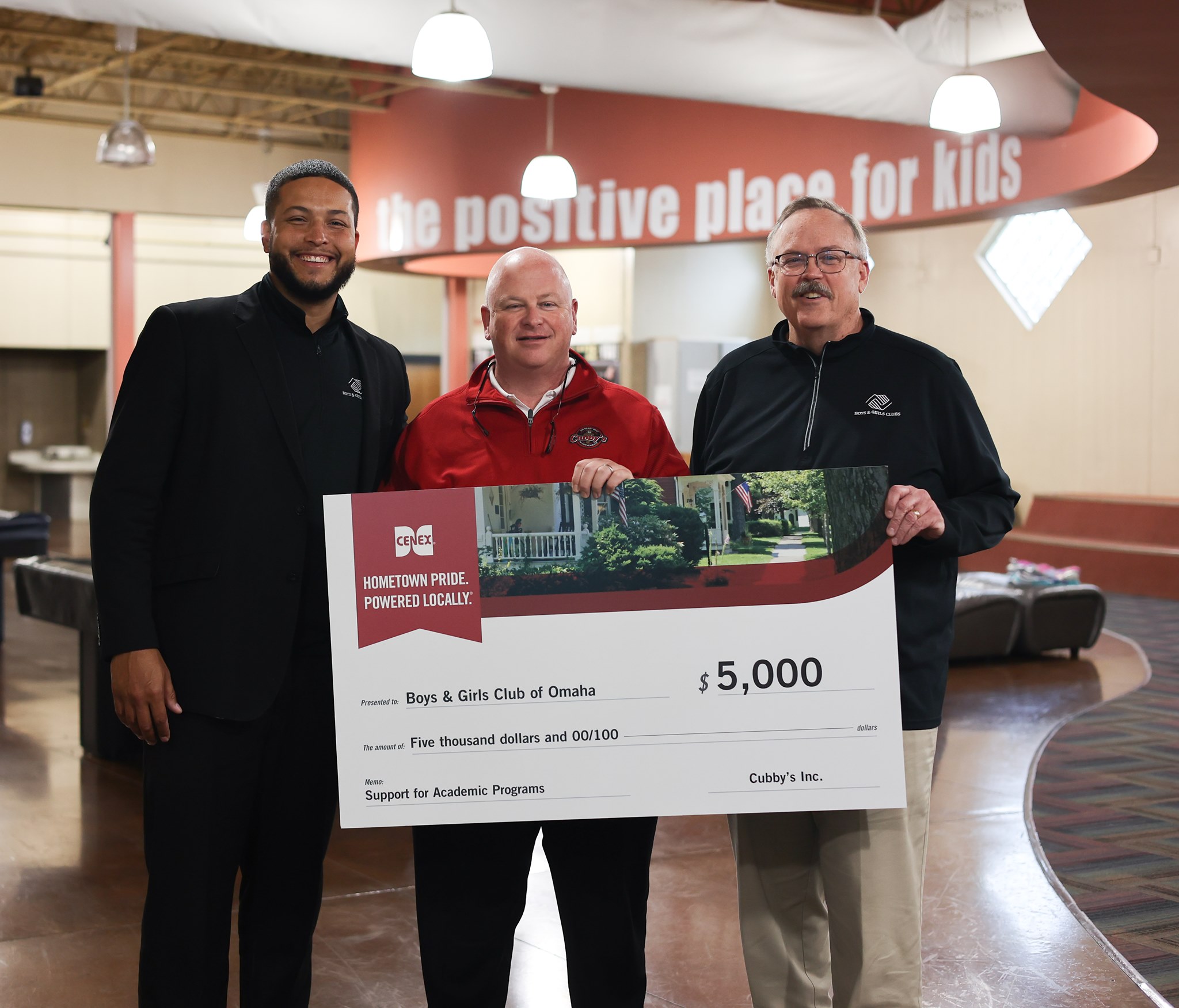 Omaha, NE, Nov. 12, 2021 — The Boys and Girls Club of the Midlands has been honored as a source of pride in their community by Cubby's Inc. and Cenex®, the energy brand of CHS Inc. As part of this award, the organization will receive a $5,000 grant.
The Boys and Girls Club is integral in supporting the youth in the area. More than 7,000 children in the greater metro area benefit from impactful, fun and educational opportunities lead by positive and professional role models.
Notably, when schools went remote due to COVID-19, the Boys and Girls Club continued providing evening meals for the kids in their afterschool program across Omaha. The center reached out to Cubby's Inc. to serve as a vendor, so Cubby's Inc. shifted employees and focus to produce and deliver about 1,000 fresh meals every day from March 2020 through the start of the next school year.
As part of the honor, the Boys and Girls Club received a $5,000 grant from Cubby's Inc. The organization will use the money to supports its continued mission of serving sack lunches to children throughout the metro.
"When kids shifted to remote learning from home, The Boys and Girls Club was concerned how they'd feed the children they serve," said De Lone Wilson, president of Cubby's Inc. "We're proud to have been part of the solution then, and to support this community initiative moving forward too."
The grant was provided through an initiative that encourages Cenex dealers, retailers and distributors to share stories about what makes their local communities special. Now in its third year, the initiative has granted more than $300,000 to Cenex communities. 
"The Cenex brand is committed to supporting and celebrating what makes hometowns across America special," said Mark Vanderlinde, communications manager at CHS. "We are proud of our Cenex dealers, like Cubby's Inc., who play an active role in supporting their local organizations and the people in their community."
About Cenex    
Cenex, the energy brand of CHS, provides high-quality refined fuels through nearly 1,400 locally-owned convenience store locations across 19 states. Consumers depend on Cenex fuels, lubricants, propane and renewable energy products to power homes, businesses and communities. CHS, Inc.(www.chsinc.com), which owns the Cenex brand, is a leading global agribusiness owned by American farmers across the United States with domestic and international operations including energy, agronomy, grain trading and food processing.    
FOR IMMEDIATE RELEASE    
Mark Vanderlinde, Communications Manager, CHS    
mark.vanderlinder@chsinc.com   
Rozlyn Paradis, Media Contact    
612-269-9182, rozlyn.paradis@exponentpr.com